From Classical and Orchestral to the hottest edge!
The Manchester catalog focuses on most-requested styles of music for contemporary corporate and broadcast production. Its core is positive, upbeat, progressive music that nicely supports video or narration.

Added to this is an eclectic blend of everything from Classical to Funky Stuff . From heartfelt solos on volumes like From the Heart , to driving power themes and contemporary edge on volumes like Ambient Energy. and Xtreme Edge. Plus hard-to-find CDs like Vocables, moviesque themes on Dark Drama, a great range of rock on Guitars III and Indie Rock and more.


Talent makes all the difference:
The Manchester Production Music Library's team of "first-call" writers, musicians, and engineers come from a world-class talent pool in New York City and include such notables as Grammy-winners Shawn Colvin and Paul Cole. The library's creator, John Manchester is one of the industry's most proven writers whose credits include work for the big 3 networks and numerous Fortune 500 corporations.

Other writers include Stan Harrison (David Bowie, Duran Duran, and Mick Jagger), Meg R. Slavin who's work is often heard on network TV; Jerry Bennett (Yes and Grace Jones), plus Rick DiFonzo.

Real instruments from solo to orchestral:
Your clients CAN tell the difference! From authentic blues, classical, jazz, and rock to big moviesque orchestrations, the Manchester catalog equips you with the real thing: live players performing with real instruments. Music lives and breathes; shouldn't your productions?


Alternate underscores on every volume
A special feature of the The Manchester library is its inclusion of many alternate arrangements and underscore versions. Whether you need less or different instrumentation or a variation of tempo or mood, these highly usable alternate versions help you create the sound and feel of a custom score.

Perfect for corporate applications:
A strong core of music focuses on themes and underscores ideal for contemporary corporate, applications (with a fresh edge that clearly departs from the sometimes stuffy tones of corporate production music).

Manchester production music helps you capture both the entrepreneurial and global corporate spirit with music that challenges and inspires. Included is lots of great "people" music - optimistic, uplifting themes ideal for positive communications. Plus music for technology, global commerce, and industry.


Ideal for broadcasters:
With the perfect blend of positive, memorable music that "sells," plus driving, edgy themes for news and promo, the Manchester Library is highly usable for broadcast broadcast spot and promo production. Unique volumes like Vocables are also great for retail and promo. Plus News & Information is loaded with news themes, bumpers, and logos.

Content Summary:
Full-service music library now on 46 primary CDs
Plus 3 additional vols. of alternate edit vers. = 49 CDs total
All themes occur in long-form version (2-3 min. avg.)
Includes many alterate versions and underscores
Includes :60, :30, and tag/logo versions of each theme
Live instruments and real players (NYC musicians)
Growing catalog with new releases
CURRENT TOTAL of over 576 different compositions
CURRENT TOTAL of over 3,230 music tracks on 49 CDs total

Back to top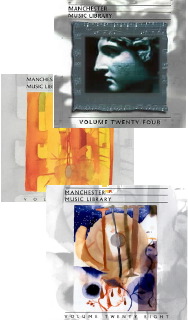 Available separately or in combo with the Manchester Library:


MSE: Manchester Special Edition.
A totally separate catalog of music designed for broadcast spot and promo production (all tracks are :60s, :30s, :10s).